Listening to Fear (Rebecca Rand Kirshner)
I enjoyed the Scoobies fighting at the beginning. It contrasts with the opening of Bargaining I when Willow is showing off with the magic and the telepathy while in this she goes all wobbly knees instead.
Riley is on the downward spiral. It's not long now until we can concentrate on enjoyable angst. Riley getting sucked off is positively icky (I was feeling chuffed that I had spotted this subtle interpretation and in the next episode Spike was saying it. Pah!).
Those stupid gifts that Willow brings make her seem like some sort of idiot. Season five so far for Willow has been a bit like Xander's season four: poor. And we haven't even got to Triangle yet.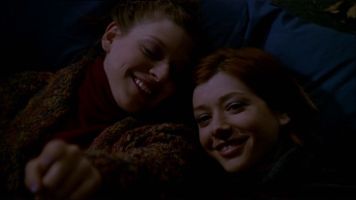 I adore the scene on the roof with Tara and Willow. I like Tara's intuition and thoughtful remark, and her not-really-that-daft names for the stars. And they are so sweet together.

I happened to look over some old posts and they were full of quotes. I'm not finding it as easy to find zingy stuff these days. This was fun though: "Festive piñata? Delicious candy?" "Something evil crashed to earth in this and then broke out and slithered away to do badness." "In all fairness, we don't really know about the slithered part." "Oh, no. I'm sure it frisked about like a fluffy lamb."

Joyce ranting, Dawn cringing, Buffy crying, it's heart-rending: and it only gets worse. Dawn does a great job of trying to protect her mother. Spike is still being stalkery but it's worth it for SMG's delivery of "are those pictures of me?"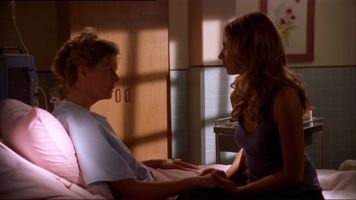 Joyce asks the inconceivable question: "She's not...mine, is she?". This scene is beautiful played by Kristine Sutherland and SMG.

With Buffy stroking Dawn's hair and Tara sitting with her feet up I could get drunk very quickly if I had a drinking game. Hmm.